International Street Festival
The International Street Festival (also known as ISF or Street Fest) was created in 1999 and is an annual event that promotes internationalization and cultural awareness within the Athens community. The Festival is student and family friendly and boasts an attendance of 3,000-5,000 visitors each year. Various UGA student groups and community organizations host exciting cultural displays and performances throughout the Festival, which typically occurs in downtown Athens each spring. For more information, please email us at isl@uga.edu. 
2023 International Street Festival Video
International Street Festival is returning to its historical location on College Ave.
April 1, 2023 12-5pm
Explore different cultures without passports, planes, or hotels! This free event will have performances, activities, and food from countries all around the world. Bring family and friends to explore different cultures without having to leave town.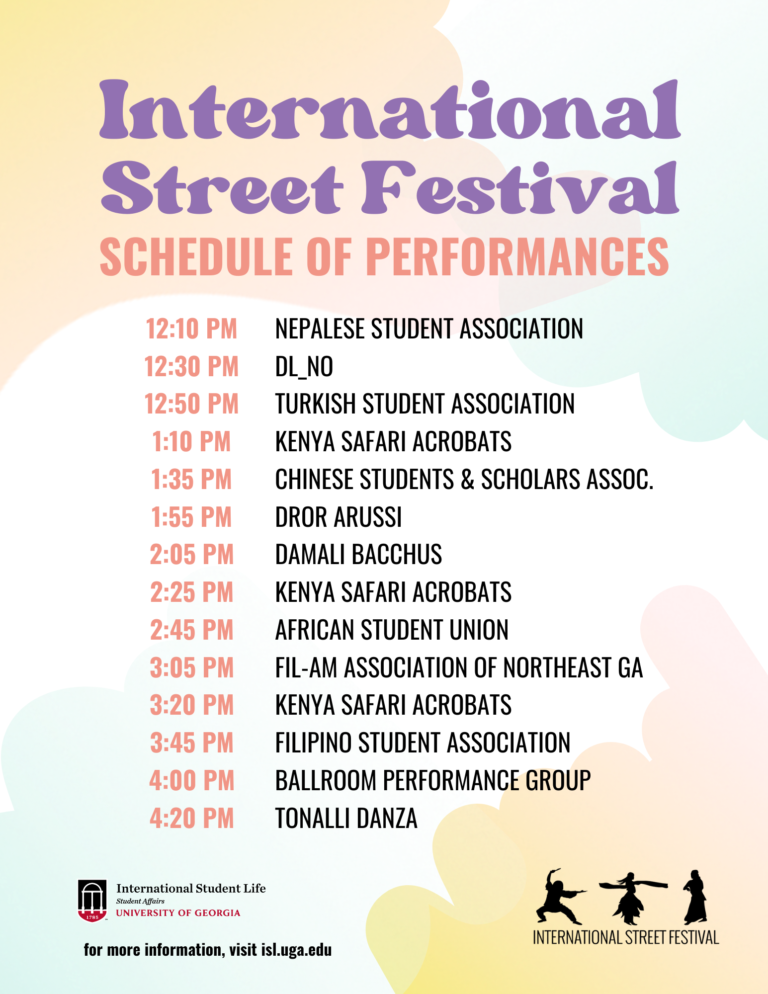 Become a Sponsor for International Street Festival
Please type "International Street Festival" in special instructions/comments box when completing your donation.
International Student Festival Archive

ISF 2021- A Virtual Celebration
The 2021 Street Festival took place virtually. Click the "View'" button to access the videos prepared by our student organizations. The archive includes cooking demonstrations, a recipe box, dance performances, music and instrument introductions, craft tutorials, a kids' corner, community partners, and more. The photos below highlight some examples for activities and programs to look for in the archive.
International Street Festival 2017
A recap of the 2017 International Street Festival, courtesy of Kyle Rehl and The Red and Black 
Vendors for the event are limited to UGA student groups. Please contact isl@uga.edu with questions.